When an emergency is detected by a triggering device the signal is passed via the panel to the on-site Cerberus Camera.


The camera immediately sends the TRIGGER message to the Cerberus Server. Video clips are recorded whenever there is movement in the field of view of the camera. These recordings are sent over the Internet to the Cerberus Server, which records the event and stores the video clips for retrieval by the customer. From the secured Cerberus web application, the customer can view, save and send both these recorded clips, as well as live videos.


The Cerberus Server starts the notification process by sending an emergency message, via emails, pages, web 'push' messages, and voice phone calls to the people and devices on the notification list
(ie. Key holders).


When a User acknowledges the message, he/she can then view the affected premise in real-time as well as viewing captured video, on any wired or wireless Internet device. This gives the user the ability to confirm that there is a real break-in, or to simply ignore any non-emergencies.
This is the real difference that
myCerberus technology makes!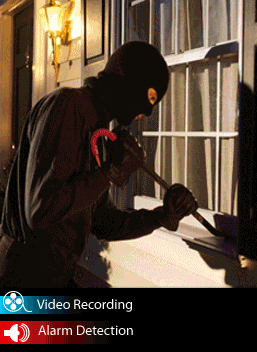 Immediately upon verification, the police can be called with a VERIFIED, IN-PROGRESS Emergency. This kind of verification will ensure that police will respond at high-priority CODE 3 (lights & sirens). Verification of an emergency is the ONLY way to get this kind of response.
ARMING AND DISARMING
Arming and disarming of the system can be done from the keypad, as with any alarm system, or the included keyfob.
The system can also be accessed via the simple web application and/or IVR telephone interface from any remote location. That means that you can control your security system from anywhere!