The Facts:
• Recent changes to Police policy with regards to "Alarm Response" have made existing Alarm Monitoring Services obsolete.
• Police are increasing priority response for Verified Emergencies, while lowering priority for Monitoring Service reported break-ins (non-verified).
• To ensure priority police response, you must have a Verified emergency.
• Cerberus Video Verification is a complete system to meet the new Response policies.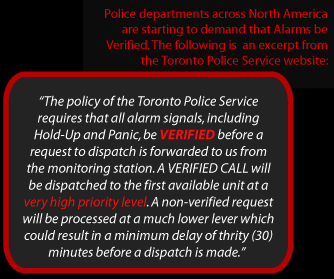 • A Cerberus premium service package will cost the same per month as a non-verification monitoring service.